At a time when it is difficult to meet people in person, it has been very uplifting to continue our series of feature length interviews with high achievers and well-known names in the construction equipment sector for Plant Planet magazine, thanks to the powers of Zoom!
For the November issue, we spoke at length to Asif Latief, the Managing Director of Boels Rental Ltd whose energy and drive, not to mention appreciation and compassion for 'people', we found to be very inspirational, especially in these challenging times.
Asif talked to us about how they are managing the Boels UK business during the pandemic. What really struck a chord, is their proactive approach to communication and how they continue to engage with people – all people – on both an internal and external level. As Asif says, "without good people, the business is nothing". Asif is also behind the #Hire Together jobs search initiative launched on LinkedIn, which he talks about in the article. The full interview spans some five pages in this month's issue of Plant Planet magazine.
We also had the pleasure of chatting to Ian James, Key Account Manager for Bronto Skylift to talk "all things access". Ian is also an active member of the International Powered Access Federation (IPAF) and Chairman of the Truck Mount Committee, the latter of which has now been merged into the Manufacturers Technical Committee.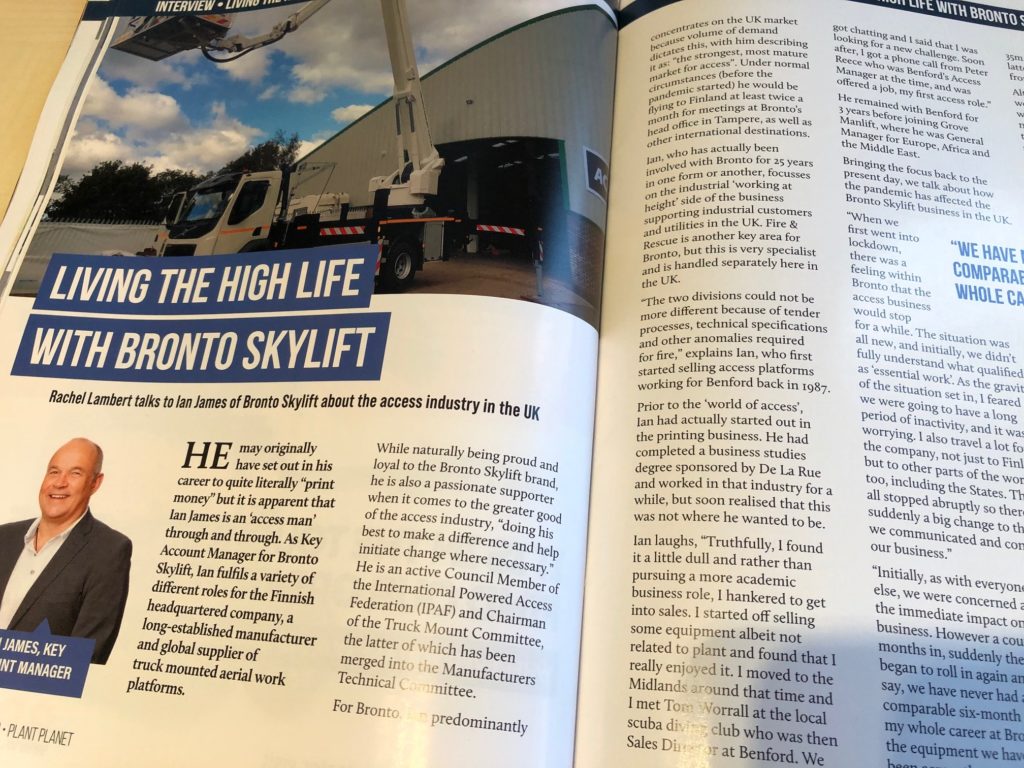 Ian explained how Bronto has been supporting its customers during the pandemic, and gave us his honest views about Brexit in relation to the access industry saying, "I am hoping Brexit may provide an opportunity to straighten out some of the abnormalities in our industry."
What becomes clear from both interviews, is just how important effective and regular communication with the teams they work with, and the customers they support.
This issue of Plant Planet can be read online or in print.  Special thanks to Asif and Ian for taking time out of their busy schedules to talk to us.  We thoroughly enjoyed our 'virtual meetings' and producing the articles. If you work in the world of plant and construction equipment, we hope you enjoy reading them as much as we enjoyed writing them.